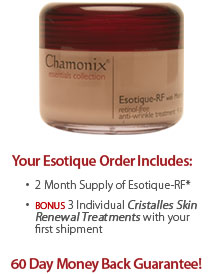 Esotique - Try it today!
Esotique is an all-natural anti-aging treatment containing Matrixyl, a natural peptide clinically proven to increase collagen production in your own skin by over 327%.
Additionally, Esotique–RF contains Hyaluronic acid: a building block of collagen and connective tissue. Combined with Grape Seed Extract and Vitamin-E, which are both powerful anti-oxidants, Esotique–RF not only treats your wrinkles and lines but does it with the best combination of ingredients.
Retail Price: $99.99
Our Price: Only $29.00!
Ships in 2-3 weeks Rush shipping available
Esotique RF Skin Cream


1 payment of only $29.00


$6.95 shipping and handling
60 Day Money Back Guarantee (less S&H)