The HoverCopter As Seen On Tv
Remote Control Hover Disk with radio controlled performance!
Special Deluxe Model
Only $39.99
plus S&H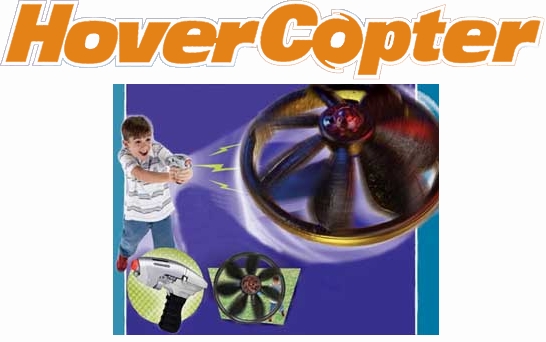 Safe for use Inside or Out!
Order The Special HoverCopter Deluxe Kit Today

Amazing Full Function RC Hover Disk As Seen On TV
The incredible HoverCopter blasts off like a rocket and hovers in midair!
With the wireless radio controller, you are in command and you control how the HoverCopter flies. You can invent cool tricks and games with the easy to use controller and even Race two HoverCopters and make them do battles and stunts! HoverCopters are fun for all ages.

The HoverCopter is safe for both indoor and outdoor use.
Watch the cool LED's change color and light up as the HoverCopter flies like a flying saucer. It spins and it can fly over 25 Ft high. Recharge the Hover Copter anywhere in just minutes using the included AC adapter.
For ages 8 and up.
Ships in 2-3 weeks (Rush shipping available EXCEPT for AK, HI, Canada and P.O. Boxes) PLEASE NOTE: Shipping address must match the address on your credit card statement or your order cannot be processed for Hover Copter Deluxe Kit.
HoverCopter Deluxe


1 Payment of $19.95


Plus $12.47 shipping and handling
30 Day Money Back Guarantee (less S&H)
ADDITIONAL COST OF $31.00 S&H WILL BE APPLIED TO ALL CANADIAN ORDERS. (Rush shipping available EXCEPT for AK, HI, Canada and P.O. Boxes)

---
Other customers who purchased the HoverCopter also purchased:
Rocket Fishing Rod
Don't Just Cast- Blast!
Rocket Fishing Rod makes fishing fun for kids with an easy-to-cast system that allows you to just point and shoot.
Don't just cast - Blast 10, 20, 30 feet with the touch of a button.
Fishing rocks with the Rocket Fishing Rod featuring rocket launch casting system, hi-tech engineering, a patented hook hiding bobber that hides the hook until it hits the water, a secret compartment for weights and lures and a safety release, so it only launches when you're ready!
Fishing has never so fun and easy!
No more crazy casting, just pump, aim, launch and hit your mark every time! Now fishing is even easier with Rocket Fishing Rod.
Recomended For ages 8 years and up.

ChalkTracker Toy Car Set
You draw the track and ChalkTracker will follow!
Make it turn, spiral, or cross intersections. You're in control of ChalkTracker!
Just draw a track with any sidewalk chalk and place the Chalktracker toy vehicle on the track. Watch the Chalktracker vehicle follow the track!
Works on concrete and black top.

The ChalkTracker Toy Car comes with Six (6) Jumbo Chalk Sticks.

The Chalk Tracker toy car kit is fun for kids of all ages!