Leptoprin SF - Stimulant Free Weight Loss
Clinically Proven to Dramatically Reduce Body Fat!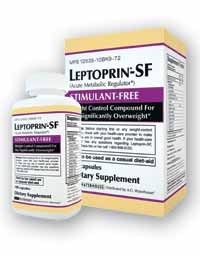 Clinically Proven Weight Loss for The Seriously Overweight!
If you need to loose at least 20 pounds of body fat, You need Leptoprin As Seen on TV!
Stimulant Free Lepoprin SF
stimulant-free Leptoprin®-SF: a truly powerful, safe, clinically proven fat-loss tool, perfect for anyone who is unable to take advantage of the original Leptoprin formula. But does it work? You bet it does!

Clinical Studies Don't Lie
In a recent clinical trial, subjects who were given the active Leptoprin-SF compound (in conjunction with modest caloric restriction and exercise) experienced eleven times (1100%) more weight loss and 63% more fat loss than those on diet and exercise alone.
Those who took the active Leptoprin-SF compound also reported a dramatic reduction in diet-induced fatigue, and reported feeling 32% more energetic. The researchers posited that the Leptoprin-SF formula elevated metabolic rate, based on evidence of increased thyroid efficiency, specifically an increase in thyroid hormone response and T3 levels. The full report of this clinical study has been peer-reviewed and published in Current Therapeutic Research (60; 4; April 1999).

But that's not all: in addition to the patented, stimulant-free fat-burning compound of Leptoprin-SF, Leptoprin also contains a powerful prostaglandin inhibitor (prostaglandins are naturally occurring hormones in the human body that restrict the effectiveness of any weight-control compound or program) that accelerates the destruction of mature fat cells and inhibits the formation of new fat cells.
But A.G. Waterhouse™ didn't stop there. Leptoprin-SF incorporates a mineral-based adjunct shown to dramatically decrease body fat versus diet and exercise alone.* Leptoprin-SF is clinically proven to be the most powerful stimulant-free fat-reducing formula on the face of the Earth. No other stimulant-free compound has been shown to reduce excess body fat as fast, as effectively, or as safely as Leptoprin-SF... and that's a fact!
Leptoprin®-SF: The Most Advanced Stimulant-free Fat-loss Formula Available Today .
So if your tired of yo-yo dieting, weight loss fads and diets that don't work, there's only one question...
What are you waiting for? Loose Weight with Leptoprin Today!
Leptoprin Weight Loss Compound
1 Payment of $163.00
$6.50 shipping and handling
30 Day Money Back Guarantee (less S&H)
Always read and follow manufacturer's directions that come with this product. Before using this product consult your health-care provider. If your health-care provider has any questions regarding this product have him or her call: 1-800-898-5153

---
Also Available When You Order Propolene :
PROPOLENE - REFILL PROGRAM: Save 70% with Propolene's refill program! You receive a fresh 2 month supply every 60 days at an over 70 percent discount as part of the 'Take it Off, Keep it Off' promotion. It's just $29.95 per month and S&H is FREE.


EXCELERENE - One of the best compliments available with Propolene is Excelerene. Excelerene™ contains Green Tea, Chromium, Kola-nut, Bitter Orange, and Vitamins B6 and B12. Each bottle contains 30 tablets. A 30-day supply of Excelerene is only $19.95 and S & H is FREE, PLUS you receive a fresh 2 month supply every 60 days for just $9.95 per month.