Mattress Genie As Seen On TV
Available in Twin, Full, Queen and King!
Order today and Recieve the Full Bed Massage Kit FREE!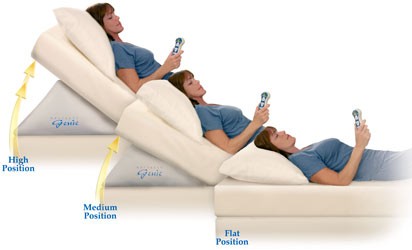 Perfect for Reading, Relaxing or Watching TV!
Transform your existing bed into an adjustable bed with just the touch of a button! Raise and lower the head of your bed to the angle that best suits your needs. Now anyone can enjoy the comfort and luxury of an adjustable bed at a fraction of the cost.

Benefits of the Mattress Genie:

Helps with: acid reflux, heartburn, indigestion, allergies and other sinus problems, GERD symptoms, hiatel hernia and much more

Enjoy reading, watching television, eating breakfast in bed, or playing video games like never before!.

Helps a new mother while nursing and provides comfortable positions during pregnancy.

Works on any mattress and with existing bedding; comes in twin, full, queen and king sizes.

Fully inflates in less than a minute, raising the head of your bed up to 26" or 40 degrees, and lifts up to 1000 pounds!

30 Day unconditional Money back Guarantee plus 1 Year Mattress Genie® Product Warranty
Mattress Genie comes with a standard 1-year warranty and is designed to last for years. With just the touch of a button, Mattress Genie's lift chamber will gently flex your mattress, raising the head of your bed to the desired angle. Lower it, and you won't even know it's there.
The Mattress Genie adjustable wedge is perfect for reading, watching TV or just lounging in the comfort of your bed.
The Mattress Genie as seen on Tv can be used to elevate your head or your feet! Order 2!
Order the Mattress Genie today and try it without obligation in your own home for 30 days, and we'll include a FREE offer for a full bed massage unit with wand control valued at $200.
Each Mattress Genie comes complete with Mattress Genie airlift chamber, electric pump system and low voltage hand control. Plus a FREE offer for a full bed massage unit with wand control valued at $200.
Mattress Genie Size Specifications:
Full 30 day Guarantee
Ships in 2-4 weeks (Rush shipping available except for AK, HI and Canada)
Mattress Genie & Bonus Bed Massage Offer


1 Payment of $89.95


Plus $19.95 shipping and handling
30 Day Money Back Guarantee (less S&H)

---
Also Available When You Purchase MATTRESS GENIE:
ADDITIONAL MATTRESS GENIE - We also offer a $25 discount on additional Mattress Genie units purchased today with no added shipping & handling charge. Plus, for each Mattress Genie ordered, we will send you a FREE coupon for a full bed massage unit valued at $200 just for trying the Mattress Genie.


EXTENDED WARRANTY - The Mattress Genie comes with a full 1-year warranty, but many customers enjoy the peace of mind that comes with an extended 3-year warranty, available for just $19.95.


MEMORY FOAM PILLOW - Today we're having a sale on our famous Contour Pedic memory foam pillows. Comparable pillows sell for $100 a piece. Ours is just $49. But, today as a Mattress Genie customer, if you buy one, we'll give you a second one absolutely FREE! That's a $200 value for just $49! Shipping is free!