MaxiGlide Hair Straightener by Maxius
Straightening hair has never been easier with the arrival of the Maxiglide™.
The ergonomic, streamlined handle fits perfectly in your hand and makes styling easy, not tiring. The design of the steam burst system, pins, channels and ceramic technology creates smooth, shiny, straight hair in just minutes, without blowing the hair smooth first.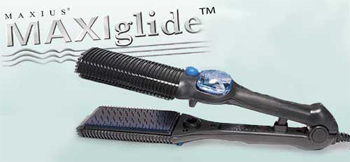 Detangling pins feature smooth, rounded ends don't harm the hair's sensitive cuticle like bristles. You can completely detangle the hair to the very end at a rate of 0.3 millimeter (detangling property), like a fine comb. Ceramic technology creates negative ions and distributes heat quickly to create a shiny, silky and smooth finish and help revitalize hair. Nearly 4 inch plates provide more room on the plate for a section of hair, which allows you to take wider section of hair, thus reducing the styling time. The design of case features edges and corners that are curved, so you can see exactly where the iron is on your hair relative to your scalp. Steam S.B.S. (patented Steam Burst System) provides just the right amount of steam when you need it. A burst of steam smoothes out even the most frizzy, wavy hair steam and softens the stubborn hair just like steam in the iron softens the fabric making it easier to smooth. Design of the case related to placement of pins and the protective/styling channels protect the scalp/skin from high temperatures and burn. Every outer pin on the plate is accurately lined-up with a corresponding channel, directing the hair through the ribs, allowing you to achieve flips and curves. The back and sides of the case stay cooler than on other irons. Placement of the on-off switch is away from your hand, allowing you to only turn it on or off when you want to, not by accident. Variable heat control allows you to choose the temperature.

Product includes: Maxiglide ™, Styling Tips DVD and BONUS Carrying Case and a flat plate is included for quick touch ups.
Maxiglide by Maxius
30 day free trial
$14.95 S&H
30 Day Money Back Guarantee (less S&H)