Miracle Blade III Knife Set As Seen On TV

Special Bonus Offer: Buy 1 Get 1 Free When You Order Today!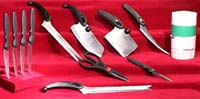 Order the Miracle Blade Today for Only $39.95! (plus S&H)
Are your kitchen knives just not "cutting it" anymore?
If your tired of using the same old dull knife to perform a variety of functions in the kitchen then Miracle Blade is the knife set for you! The Miracle Blade III Perfection Series are the last knives you'll ever need. Miracle Blades never need sharpening and are contructed from rust resistant stainless steel. The ergonomic handles fit comfortably in your hand are are designed to give you just the right angle for cutting, slicing and dicing!
The Miracle Blade 10-piece knife set as seen on tv includes everything you need to make your time in the kitchen more efficient:
Chop vegetables for stir fry
filet fish for dinner
slice cheese and fruit for party platters
and more!
As Seen on TV, when you order the Miracle Blade III Knife set today you recieve:
Miracle Blade Slicer
Rock 'n Chop
Filet & Boning Knife
Chop 'n Scoop
Paring Knife
Kitchen Shears
4 Steak & Utility Knives
Chef Tony's Recipe & Tip Guide
Get a Second Miracle Blade III Knife Set Free When You Order Today!
Ships in 4-6 weeks (Rush shipping available except for AK, HI and Canada)
Miracle Blade Knife Set


1 Payment of $39.95


Plus $14.95 shipping and handling
30 Day Money Back Guarantee (less S&H)