Safe Side Stranger Safety Video for Kids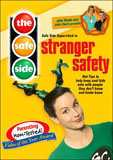 As Seen On TV, Award Winning Program fro Julie Clark & John Walsh Teaches Your Kids How to Stay Safe & the Dangers of Strangers!
Do you know the rules of Stranger Danger? Would your kids know what to do if a stranger approached them? Teach them how to be safe with
The Safe Side: Stranger Safety!
Julie Clark, founder of The Baby Einstein Company, and John Walsh, host of America's Most Wanted, have created The Safe Side to give parents simple, fun and interesting ways to discuss difficult topics with their children. Stranger Safety is a laugh-out-loud video that kids will love watching again and again. As they watch, important safety tips are presented by Safe Side Superchick, the zany lead character, in ways kids can understand and remember. Following The Safe Side credo – Smart. Cool. Safe. – children are empowered to make good decisions in potentially harmful situations. The Safe Side creative team includes Julie, John, production members from the Spy Kids movies and an upbeat, danceable theme song by Gary Greene of Hootie and the Blowfish, all of whom are parents of young children.
The Safe Side: Stranger Safety is a video filled with 35 minutes of easy to learn safety skills. Special offer includes hot tips mini poster, 3 safety badges, safe side music video, and viewing guide. Suitable for elementary school aged children.
This video was previously titled "Hot Tips to Keep Cool Kids Safe."
Key Features
Important safety tips for parents and kids, including an up-to-date way for kids to think about "strangers." DVD running time is 42 minutes.
Appropriate for kids, ages 5-10 years, though many customers say their 4 year olds love it too!
Available in DVD and VHS. NTSC format only. DVD zoned for USA and Canada only.
Includes closed captions and options for Spanish sub-titles.
Hot Tips mini-poster and three safety badges included.
Rush Shipping available, Cannot be shipped to Canada
SafeSide Stranger Safety Video


1 Payment of $19.95


$4.95 shipping and handling
30 Day Money Back Guarantee (less S&H)

---
Also Available When You Purchase
THE SAFE SIDE: STRANGER SAFETY
---
SAFE SIDE: INTERNET SAFETY - As a special today, we are also offering the "Safe Side Internet Safety" DVD featuring 30 minutes of tips to help empower kids to make smart decisions while using the internet. Join the Safe Side Superchick as she presents lessons on how children can navigate online while avoiding the dangers of unwanted email, downloads, pop-up ads and chat rooms. This special offer includes hot tips mini poster, wristband, and two safe side music videos and is available today for the special price of $16.99 plus $3.00 shipping and handling for one DVD.


SAFE SIDE: COOL TUNES -As an added bonus, you can also receive The Safe Side "Cool Tunes", a CD collection with 10 songs to keep cool kids on the Safe Side. This CD combines the educational and entertaining messages from the Stranger Safety video with original songwriting and is full of full lyrics and a current pop sound. These songs will have kids singing and learning important lessons that can help them be safer. This CD is available today for $9.98 plus $3.00 shipping and handling.
---