StriVectin SD
As Seen On TV, A Concentrated Firming Skin Cream Formula to Repair Stretch Marks and Rehydrate Skin For a More Youthful Apearance!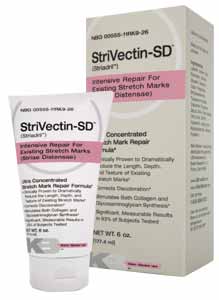 Hydrates, Soothes, Firms and Conditions skin to reduce the appearance of fine lines and wrinkles or stretch marks due to weight loss and pregnancy!

As seen on TV, StriVectin-SD includes a proprietary combination of skin firming agents, elasticizers, and skin hydrators adding up to the most comprehensive topical formulation shown to confront virtually every aspect of stretch mark repair. The StriVectin SD formula is also being used by men and women around the world to remove fine facial lines, wrinkles and crows feet!
Due to the successful results so many StriVectin SD users have had, finding a tube at the cosmetic counter (yes, Strivectin is sold in upscale cosmetic stores and boutiques, WHEN YOU CAN FIND IT!) has become almost imposible!
StriVectin-SD® is a multi-action skin perfector enriched with Striadril, a key compound containing patented pentapeptides that significantly improve the appearance of facial wrinkles, stretch marks, and minor skin imperfections by aiding the build-up of collagen. Unlike many other anti-aging treatments, Striadril is more stable (longer shelf life), better tolerated (causes less irritation), safer, and more effective.
Benefits of Using StriVectin SD:
StriVectin SD originally developed to repair stretch marks.
StriVectin SD turned out to be an anti-aging breakthrough.
StriVectin SD has been shown in clinical trials to reduce the appearance of fine lines and wrinkles.
StriVectin SD works no matter how long you've had your wrinkles.
Used by Men and Women
For best results always begin with clean, dry skin. Apply StriVectin-SD three times daily (do not exceed three applications per 24-hour period). Use sparingly. StriVectin-SD is a concentrated formula. Vigorously massage StriVectin-SD into the target area, using a circular motion, until completely absorbed.
StriVectin-SD skin lotion is absorbed immediately, leaving your skin youthful, smooth, and silky.
What do Doctors Say:
Dr. Nathalie Chevreau, PhD, RD, Director of Women's Health at Salt Lake City based Basic Research®, exclusive distributor for Klein-Becker, explains:
"Leading dermatologists agree that Botulinum Toxin is the preferred treatment for moderate to severe frown lines between the brow.
But ever since it was discovered that StriVectin could reduce the appearance of fine lines, wrinkles, and crows' feet... the kind of fine lines, wrinkles and crows feet that can add 10-15 years to your appearance and which costly medical treatments often leave behind... skin-care professionals have been recommending, and using, StriVectin."

In fact, researchers believe non-invasive alternatives are better, because, as Dr. Chevreau continues, "Topical creams and gels offer gradual, continual results, while the effects of injections, facial peels, and dermabrasions are rougher on the skin and wear off." In other words, StriVectin-SD helps give you a youthful, healthy, glowing complexion faster than retinol, far superior to vitamin C, and without irritation, needles, or surgery. Even better, many dermatologists and plastic surgeons recommend StriVectin in conjunction with cosmetic procedures, including Botulinum Toxin.
Each tube of Strivectin SD by Klein-Becker USA contains 6oz of the concentrated skin cream formula, or enough for a 6 month supply.
Order StriVectin SD Skin Rejuvenator Today
Ships in 5-7 Days
StriVectin SD Skin Cream


1 payment of only $135.00


$6.50 shipping and handling
30 Day Money Back Guarantee (less S&H)

---
Also Available When You Purchase
StriVectin SD

StriVectin Hand Cream
Klein-Becker may not be the first to notice that the skin on the back of your hands is not the same as the skin on your face (the texture is thicker, tougher and "looser"), but they seem to be the first to do something about it. In fact, the newest and most sought after hand cream on the market today is StriVectin™-HC Ultra-Concentrate Cream For The Hands™.

Read More and Order StriVectin HC hand Cream Today