SONIC ONE Toothbrush As Seen On TV
A Revolutionary Whole Mouth Cleaning System!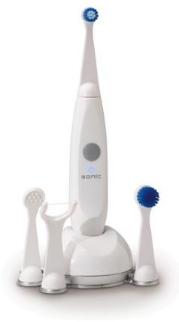 Cleans your entire mouth not just your teeth!
Sonic One Toothbrush
Sonic One is the world's fastest total oral care system!
The bristles on the Sonic One toothbrush move at an incredible 47,000 strikes per minute. The Sonic care system uses a new patented technology called Harmonic Resonance to take your entire mouth to a whole new level of clean.
Sonic One does more than just brush - it's a comprehensive sonic oral care system that allows you to brush, floss, clean your tongue and whiten your teeth - faster and better!
The Sonic One Toothbrush comes complete with:
the Power Handle (Lifetime Handle Replacement Plan)
Toothbrushes (2 sizes)
Tongue Cleaner
Flosser
45 Flosser refill cartridges.
Each Sonic One 1 Year Limited Manufacturer's Warranty
And if you purchase the Sonic One now, you get a mail in rebate savings coupon for $30! That means instead of $89.95 your final cost for the Sonic One is Only $59.95!
Sonic One Toothbrush System


1 Payment of $89.95


Plus $9.95 shipping and handling
30 Day Money Back Guarantee (less S&H)
A COST OF $29.37 S&H WILL BE APPLIED TO ALL CANADIAN ORDERS. (Rush shipping available EXCEPT for AK, HI, Canada and P.O. Boxes)

PLEASE NOTE: Shipping address must match the address on your credit card statement or your order cannot be processed for the Digi Draw.

---
Also Available when you purchase the Sonic One:
BRUSH HEADS - With Sonic One you will automatically be sent 2 FREE replacement brush heads to your home every 3 months for FREE! You just pay $4.65 for shipping and handling, billed to the same credit card you are using today.


ADDITIONAL SONIC ONE UNITS - Today we can offer you up to 5 additional Sonic One Systems at half price! For only $44.98 plus $9.95 shipping and handing for each Sonic One System ordered, billed to the same credit card you are using today.


DELUXE REFILL PROGRAM - Most people choose to get a 3 month booster supply of Sonic White to keep your teeth their whitest, plus 90 replacement floss cartridges, and 3 tins of the OxyMint breath blasters – it's a $35 value, specially priced for only $9.95 plus $2.95 shipping and handling.


BRUSH STERILIZER - Studies have shown that your toothbrush is a breeding ground for harmful germs - and just rinsing your brush doesn't kill them. Sonic One has a companion brush sterilizer that kills these germs using ultraviolet technology. The unit can sterilize up to 6 brushes at a time. It's a $60 value – but today we offer this to you for only $19.95 plus $3.95 shipping and handling.