VIETNAM: AN AMERICAN HISTORY BY TIME LIFE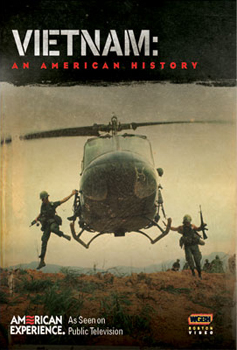 The Powerful Documentary As Seen On TV
Vietnam: An American History by Time Life 3 DVD Set
Order Now for FREE Shipping!
Relive the gritty unfolding of the Vietnam War with this award-winning documentary, Vietnam: An American History. Capturing the gripping reality of America's costly battle, this documentary on the Vietnam War provides an objective look into the Vietnam turmoil -- see it live and in the moment. Own a piece of history with this spellbinding visual masterpiece!

Watch revered newsman Walkter Cronkite, Dan Rather, Morley Safer, and Ed Bradley tell the intense story of the most controversial war in American history. This special collection of CBS News documentaries on the Vietnam War has won 7 Emmy's and makes a wonderful gift.
Often called the first televised war, Vietnam An American History is a must have for any history fan or documentary collector.
Rush Shipping available, Cannot be shipped to Canada
Vietnam: An American History


1 Payment of $39.99


FREE shipping and handling
30 Day Money Back Guarantee (less S&H)

---
Also Available When You Purchase
VIETNAM: AN AMERICAN HISTORY BY TIME LIFE
VIETNAM: AN AMERICAN HISTORY DELUXE DVD SET - As a special today, we are offering over $100 savings on the complete 18 DVD 'American History' collection. You'll get the 'Vietnam: An American History' 3 DVD set you just ordered, plus 15 more DVDs hosted by Walter Cronkite, America's most trusted newsman. The series includes Cronkite's acclaimed Viet Nam television series, with exclusive interviews and rare footage; plus you'll get Cronkite's award winning programs on WWII and other American military ventures. This unbelievable collection is a must have and is now available for just 3 additional payments of only $39.99 ($119.97) charged to the credit card you have provided in today's purchase. And shipping and handling is FREE!


CENTURY OF WARFARE 2 DVD SET - We are also offering a special 2 DVD collection of documentaries on World War 2. Time Life's Century of Warfare documents key battles of World War 2, as they really happened, for only $29.99 and just $5.79 shipping and handling. It takes you behind enemy lines with over 7 hours of rare combat footage that's been digitally re-mastered for DVD. You'll see the whole picture, from the skies over Europe to the bloody South Pacific. You'll be there at Pearl Harbor, Stalingrad and Normandy. You'll also witness the power and thunder of World War II in nearly 2 h ours of archival footage assembled from sources all over the world. You'll see the Germans launch a surprise attack on Russia, D-day, The war in the Pacific, a B-17 bombing raid, plus the unleashing of the A-bomb. This unique collection would also make a wonderful gift. There is a limit of three per customer and you don't want to miss out on a piece of history.