CLEVER CLASPS are magnetic jewelry clasps that you can attach to any necklace or bracelet. When you bring the two halves of the clasp near each other, they click into place and lock. Deluxe Clever Clasps have a special locking mechanism for extra security.
If you have expensive jewelry, or even jewelry with sentimental value, you may want the added security our locking mechanism of the Clever Clasp Deluxe offers. And it's easy to use: Once the magnets click together, you simply give the clasp a twist and it locks.
CLEVER CLASPS contain super-strength magnets that are guaranteed to grip and never slip, so even your heaviest necklaces are perfectly secure.
Clever Clasps are available in silver or gold to complement all of your jewelry. They even come with a three-inch extender, so you can add a little extra length to your necklaces or make your jewelry more comfortable around your neck.
Normally, a set of four (4) clasps and one (1) three-inch extender is $24.98.
But with this special internet offer,
WE WILL DOUBLE YOUR ORDER TODAY FOR FREE!
You'll get eight (8) clasps and two (2) three-inch extenders for the same low price OF ONLY $24.98.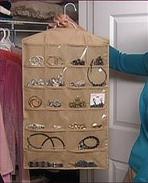 Plus As an added bonus The deluxe also comes with our hanging jewelry organizer absolutely FREE. This organizer hangs in your closet and has 40 clear pockets to hold and display all your earrings, necklaces, bracelets and more.
Clever Clasps come with a risk free 30 day money back guarantee. Due to demand there is a limit of 6 per customer.

So what are you waiting for?
Order Your Clever Clasp Deluxe Kit Today!