StriVectin Hand Care Kit As Seen On TV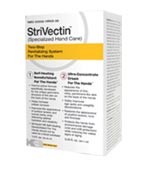 A Breakthrough Skin Treatment Formulated Especially for The Tough Skin on The Hands!
Because the skin on the back of your hands is not the same as the skin on your face (the texture is thicker, tougher and "looser"), the multibillion-dollar cosmetic industry is finally focusing its attention on hands…
putting breakthrough skin-care technologies into their newest hand treatments.
Far beyond ordinary moisturizers and basic creams that protect against heat, cold and everyday wear and tear, there's a new generation of hand treatments from high-end cosmetic giants Klein-Becker, Lancome®, Clinique® and Clarins® that not only soften and smooth but may also help reduce the appearance of age spots and wrinkles.
In fact, the newest and most sought after hand cream on the market today is StriVectin™-HC Ultra-Concentrate Cream For The Hands™.

More than a simple moisturizer, StriVectin-HC's "hand-specific" formula reduces the appearance of thin, veiny, parchment-like skin on the back of the hands and visibly improves the appearance of age spots and unsightly discolorations all while restoring the appearance of youthful texture, tone and firmness while it protects the hands from environmental damage and dramatically reduces the visible signs of aging.
StriVectin-HC Ultra-Concentrate Cream For The Hands is the ultimate in comprehensive hand care.
The StriVectin-NE Self-Heating NanoExfoliant For The Hands Treatment has a molecular weight perfectly suited to help increase cellular turnover and improve the appearance of surface tension and overall clarity while delivering optimal hydration and elasticity. Our thermo-active NanoExfoliating technology delivers substantial dermabrasive properties without causing lasting redness or damaging the skin.

In fact, because StriVectin-NE Self-Heating NanoExfoliant For The Hands was developed specifically for the skin on the back of the hands, it can be used every 2-3 days or as often as necessary (depending on how "age ravaged" your hands look and feel).
Users of The StriVectin Hand Care Kit have reported significant improvement in hand texture, tone and overall clarity after the very first application!
If you purchase the StriVectin Hand Care Products seperatly, StriVectin HC retails for $38.00 per tube, and StriVectin NE retails for $29.00.
We are offering both skin care products today in one hand care kit for the low price of only $55.00!
Thats a Savings of $12.00!
Each StriVectin Hand care kit comes with a full 30 day no questions asked money back guarantee.
Ships in 5-7 Days
StriVectin Hand Care Kit (includes one tube StriVectin NE and one tube StriVectin HC)


1 payment of only $55.00


$6.50 shipping and handling
30 Day Money Back Guarantee (less S&H)

---
Also Available When You Purchase
StriVectin HC

StriVectin SD
As Seen On TV, StriVectin-SD includes a proprietary combination of skin firming agents, elasticizers, and skin hydrators adding up to the most comprehensive topical formulation shown to confront virtually every aspect of stretch mark repair and reducing fine facial lines, wrinkles and Crows feet in both Men and Women.

Read More and Order StriVectin SD Facial Skin and Body Cream Today